An X-ray machine which campaigners have fought to have in Faversham for many years has been installed.
When the minor injury unit was saved by Faversham Medical Practise in September, the main aim for the future was to secure an X-ray facility for the community.  The practice in Bank Street will now offer the service from 10am until 4pm and may extend these hours in demand increases.  It was officially opened on Tuesday, when doctors past and present, health campaigners, MP Helen Whately and Mayor of Faversham Shiel Campbell cam together to celebrate.
Health campaigner, chairman of the Friends of Faversham Cottage Hospital and Health Centres and town councillor David Simmons has been an integral part of the process and welcomed the installation.  He Said this week: "The Friends have been campaigning for many years for Faversham to have its own X-ray facility so that people do not have to travel to Canterbury when frail and unwell.  "We are also pleased that patients in the Cottage Hospital will benefit from it being close by.  "Raising funds for the X-ray has been the focus of our fund raising for some years.  "We shall continue to raise funds for our local health services as new challenges present themselves.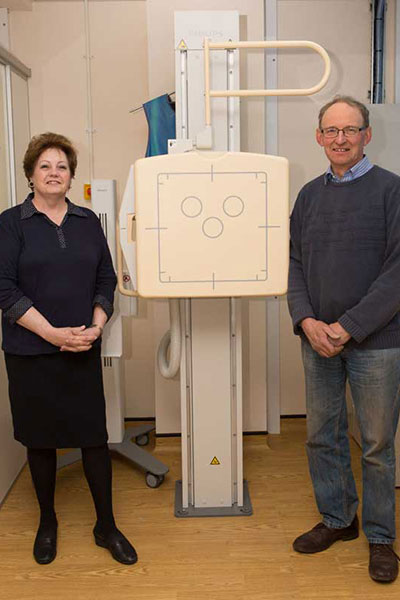 n September, Faversham Medical Practise started the contract to run the Minor Injury Unit, which was at risk of being closed after an announcement in 2013.  After a long campaign to save the unit, health bosses announced that the facility had been saved last year.
The X-ray project leader Gaurav Gupta said:  "We are delighted that Faversham now has the long awaited X-ray facility. "We are very grateful to the people of Faversham who campaigned vigorously to keep the Minor Injury Unit open, and through their legacies, donations and fundraising have enabled the Friends of Faversham Cottage Hospital and Community Health Centres to fund the preparatory work and the purchase of the X-ray equipment."
The chairman of Faversham Health Matters, Brenda Chester, said: " I am delighted that Faversham finally has an X-Ray service, as do all the other main towns in Kent.  "It has been a long journey of over a decade of campaigning "Since November 2013 when CCG suddenly announced it was closing the Minor Injuries Unit, the campaign accelerated to first retain the minor injury unit and, second, ensure it included and X-ray service.